Designing in Altium and want to ensure your design is compatible with Bay Area Circuits' standard design capabilities? Utilize our custom Altium rule set to easily check your design prior to submitting for manufacturing. Prevent errors and delays before they occur, saving you time and money!
The values contained within the .rul file are based on BAC's standard capabilities; where design flexibility exists, for cost control & reliability reasons, it's recommended to stay within the standard capabilities, however, advanced capabilities are also available.
NOTE: The instructions that follow were created using Altium Designer version 17.1.
Let's Get Started!
Begin by downloading BAC's Altium .RUL file attached to this help article (below).
Prepare for design rule importation. From the menu bar, select 'Design and then 'Rules'.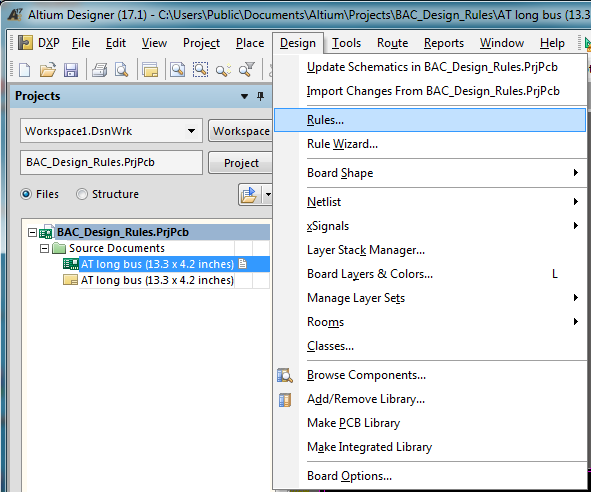 The 'PCB Rules and Constraints Editor' dialog box will open.
To import the .RUL file, click anywhere in the dialogue box and choose 'Import Rules' from the pop-up menu.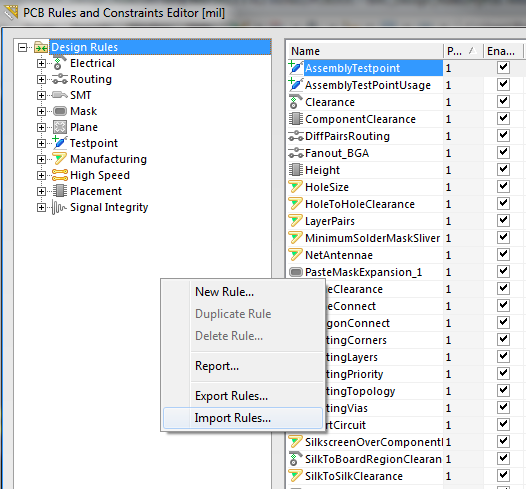 The 'Choose Design Rule Type' dialogue box will appear. The list of design rules that appear can be either imported separately or all at once. For this importation, it is required to alter all rules in accordance to BAC's design rules. Select all (Ctlr+A or Command+A) the design rules that are present and select 'OK'.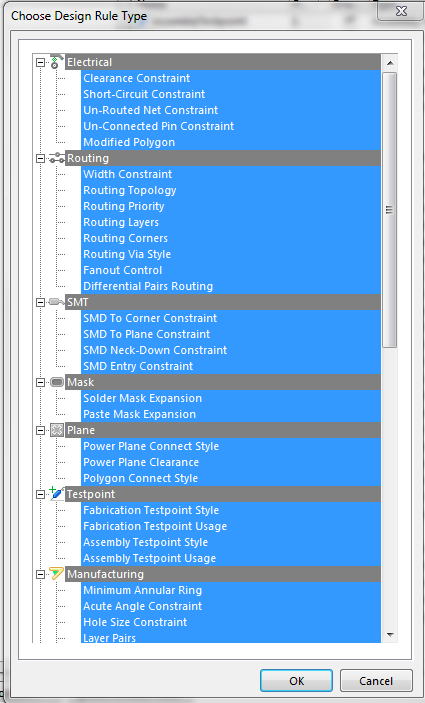 An 'Import File' dialogue box will appear. Locate and select the previously downloaded 'BAC_Design_Rules .RUL' file and click 'Open'. Next, a dialogue box will appear asking for confirmation of the import; select 'Yes'.
That's it! BAC's .RUL file has been loaded successfully!
Wondering how BAC's Altium .RUL file values differ from Altium's default values? Take a look at the comparison chart linked below.